Beaches in Malta, Gozo and Comino.
Browse from our list below and discover all the beaches in Malta.
Different beaches in Malta, Gozo and Comino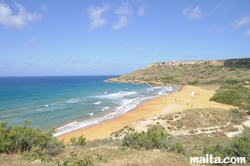 The Maltese Islands can be described as a sea, sun and fundestination. And it certainly does not disappoint.
Geology combined with the action of winds and waves, created spectacular inlets and alcoves all around, simply choose is you like rocky, pebbly or sandy beaches!
The coast, especially the north eastern side of Malta, is dotted with pockets of bays that range from sandy beaches such as Mellieha Bay to pebbly and rocky beaches such as St. Paul's Bay.
Some bays are easily accessible by public transportation, while others are more remote, and enjoy quiet and more romantic atmospheres.
You can find several activities on the different beaches, varying from windsurfing, boat trips, jet skiing and fantastic diving. Choose between rocky and pebbly beaches found almost everywhere to the beautiful sandy beaches in the North of Malta!
On the larger and more popular beaches you can find cafes and even restaurants, open during the summer season which in Malta lasts approximately from April-October.
Blue Flag and Beaches of Fine Quality in Malta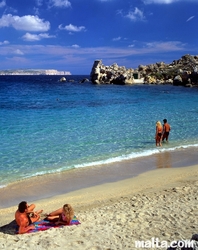 Up until recently, one could freely organize BBQs on the beach. But some local councils have banned this privilege in an attempt to obtain the Blue Flag or the Beach of Quality status.
These eco-labels enhance the quality of the beaches and their facilities, making sure that the beach is clean, secure and accessible to all.
In Malta, St. George's Bay and Bugibba have the Blue Flag award, while Mellieha Bay and Golden Bay have obtained the Beach of Quality status.
Other beaches are being upgraded continually to safeguard the aesthetics and the ecological value of the sites.
Best beaches according to Malta.com staff