Spa and Wellness in Mellieha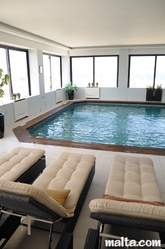 Relax your senses and pamper yourself with a massage or a treatment
If you feel like being pampered and simply want to relax during your holiday in Malta, visiting one of the several Spas in Mellieha is the perfect solution.
Enjoy a massage, facial or one of the many treatments offered at the top class Spas.
Browse our list below to explore the choice of Spas and treatments in Mellieha for you!
Best spa facilities according to Malta.com staff