Cinema in Malta and Gozo: a complete list
Watch the latest releases while your on holiday in Malta
The Cinemas in Malta and Gozo are listed on the right with individual information about cinema complexes in Malta and Gozo.
Going to the movies during your holiday in Malta is a great way to spend a relaxing evening or perhaps to start an evening before heading out for some socializing and dancing in Paceville.Going to the cinema in Malta is also perfect opportunity to get out of the summer heat and cool down, or get out of the winter cold wind.
Eden Cinema in St. Julian's , The Empire Cinema in Bugibba and many more cinemas in Malta
Malta has four cinema complexes and there is also one in Gozo which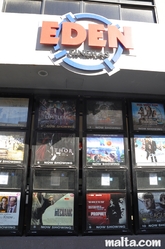 is the Citadel Cinema, all having the latest cinema technology and equipment.
All cinemas show the latest Hollywood movies throughout the day, perfect for families with younger children who can't stay up late.
Malta is also among the first countries in Europe to have the latest releases and been the set for many movies such as The Count of Monte Cristo and the epic Troy, The Da Vinci code and Munich.
The Eden Cinema in St. Julian's is the most popular cinema complex in Malta with both locals and tourists.

Completer list of the cinema theares in Malta and Gozo:
Eden Cinema, St. Julian's
The Empire Cinema, Bugibba
Tal-Lira Cinema, Fgura
Citadel Cinema,Victoria (Gozo)
St. James Cavalier, Valletta
The Embassy Cinema Complex, Valletta