Saltpan Country Walk Gozo
Step in your walking shoes and explore the hidden gems of Gozo on foot
The Saltpan Country Walk in Gozo is a very interesting walk where you will discover history and traditions as well as see many beautiful natural sites and villages. The walk starts off and finishes in the capital of Gozo, Victoria, from where you will walk toward the magnificent Wied Sara Valley.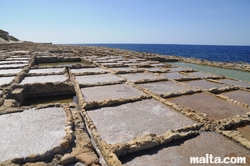 As you keep walking you will pass by the oldest basilica in Gozo and then the fantastic valley of Wied il-Ghasri. Wied il-Ghasri is set between steep cliffs and has beautiful clear blue waters. If you have time, head to the Wied il-Ghasri Bay for a fantastic swim! The next stop on this countryside walk is Reqqa Point where you will see beautiful traditional salt pans still used today.
Reqqa Point is also a popular dive site and you can encounter divers walking down to the waters fully geared up. The countryside walk will then take you through Xwejni Bay and Qbajjar bay where you will find restrooms and refreshments. The Saltpan walk continues through the beautiful peaceful Gozo countryside where you can explore the small cute villages of the Island before arriving back to Victoria. Walk only along the route as the fields are privately owned. Different flowers and greenery grows here and exploring the unspoilt Mediterranean vegetation is recommended. The Saltpan countryside walk is appropriate for pedestrians, horse rides and bicycles.
This walk will take around 5 hours to complete and is 12 km long. Include more time if you wish to swim in Wied il-Ghasri Bay.