Ta' Qali Crafts Village
What you can find at the Crafts Village in Ta' Qali

The crafts village in Ta' Qali is located in the former RAF wartime air-field and is a very popular tourist attraction in Malta. Here, different kinds of crafts and beautiful artefacts are sold created by local experts.
You can watch the craftsmen blowing and forming glass, visit the goldsmiths filigree and beautiful jewellery and have a look at the beautiful sculptures and lace.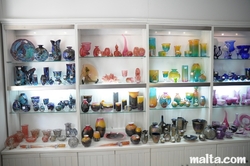 Visiting the crafts village in Ta' Qali, in the outskirts of Attard and a few miles from Mdina and Rabat.
It is a perfect way to spend a day watching craftspeople at work and meeting new people.
Find a special souvenir to take back home to remember your holiday in Malta.
More than just a craft village, discover malta historical heritage
At the crafts village there are also food and beverage shops where you can sit back and relax after shopping. At Ta' Qali you will also find the Ta'Qali National Park, the National Stadium, a large vegetable market called Il-Pitkalija and the Malta Aviation Museum.

The entrance to the crafts village is free.
Address: Ta Qali Crafts Village, Ta' Qali, Malta
Bus: 106, 107, 51, 52, 53, 202, 109, X3
When: Monay-Friday 09:00-16:00, Saturday-Sunday 09:00-12:00