Marsaxlokk Sunday Market
What the Marsaxlokk Market has to offer each Sunday
The Marsaxlokk market is a very popular attraction featuring in many guide books and therefore attracts many tourists and locals who go to buy fresh fish and seafood caught during the same morning as well as everyday items.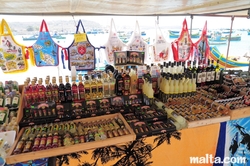 The market is very interesting and attractive as many different items are sold and people come here to socialize. Although the Marsaxlokk Sunday Market was originally a fish market, it has developed, and now it also sells locally produced honey, fruit jams, wine as well as vegetables, souvenirs and clothes. After shopping at the market, you can have lunch in one of the many seafood restaurants scattered in the picturesque bay of Marsaxlokk
When is the Marsaxlokk Market?
Day: Sundays
Bus: 81, 119