Ramla Country Walk Gozo
Step in your walking shoes and see wonderful views around Gozo
During the Ramla country walk you will discover several beautiful and historical sites as well as fertile valleys which make the Ramla walk very nice and unique.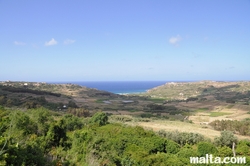 The Ramla Country Walk both starts and ends in Nadur and as you leave Duru Street towards Wied Bingemma you will find a valley where you can watch local farmers using traditional farming methods. Stay on the path since the fields here are privately owned. As you keep walking you will arrive to an area called Ta' Venuta where you can enjoy spectacular valley views. It was here that the French troops landed in Gozo back in 1798.
As you continue the Ramla Country Walk you will finally arrive to the large and beautiful Ramla Bay where you can walk barefoot in the red sand. Here you can discover the nature around the beach and have a lovely swim if weather allows. When you explore Ramla Bay head up to the beautiful Calypso Cave. As you leave Ramla Bay you will walk on a small and peaceful road that takes you around Nuffara Ridge before heading back to Nadur. Back in Nadur there are plenty of places to buy refreshments and use restrooms.
The Ramla countryside walk in Gozo will take around 4 hours to complete and is 10 km long. Include more time if you wish to swim at Ramla Bay and visit Calypso Cave.