Leisure activities in Malta and Gozo: have fun during your holiday in Malta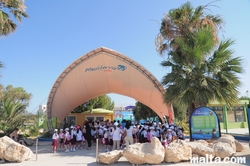 Are you wondering what to do in your free time while you're in Malta? Look no further, we surely have the answers! Malta has a variety of fun and exciting leisure activities that are suitable for everyone.
Many popular Amusement Parks and much more!
There are a number of amusement parks around the island that are fun for people of all ages, especially kids. Some fun Parks have periodical installations on the Maltese beaches and in the sea during the summer months. Malta has something for everyone, just browse the list below!
Watersport and outdoors activities
Malta is a true paradise for the ones who enjoy water activities & water sports such as water skiing and windsurfing, the nature and the sea and want to have fun during their holiday in Malta. As Malta is surrounded by crystal clear blue-green waters and blessed with around 300+ sunny days per year, the island is the perfect place for doing water sports and water activities.

Malta takes advantage of the mild climate and offers a number of outdoor activities and water sports. Try
canoeing
or
horse-riding,
or if you're a nature lover, take one of the
country walks
. There are a number of indoor activities to keep you active, such as
bowling
and several game rooms.
Holiday Treats
After all, you're on holiday, so why don't you take a stroll in any of the beautiful landscaped gardens , go for a drink, have a nice meal, enjoy the Maltese nightlife, or attend the most appealing event? There's always something going on. Whatever your age or your interests, in Malta you will not be bored.
Best leisure activities according to Malta.com staff