Diving sites in Malta, Gozo and Comino: an underwater wonderland of wrecks, caves and reefs

Diving in Malta, Gozo and Comino, anywhere at any time you like
Malta is famous for its variety in dive sites ranging from cave dives to reef and wreck dives, all within easy reach. Diving in Malta is an excellent all year round activity with perfect visibility. Besides, Malta has more shore and boat dives available than most islands or resorts and the small size of the Maltese Islands allow for several diving trips during your holiday.
Clearest water in the Mediterranean Sea and a variety of depths to chose from
The waters in Malta are perfect for both recreational diving as well as more advanced and
technical diving
and there are dive spots to suit all ranges of ability and interest. The depths of the dive sites in Malta vary and divers can choose from
very shallow
10m dives at
Ghar Lapsi
to the 40m+ Lantern Point, which even takes divers through an underwater tunnel over 50m long.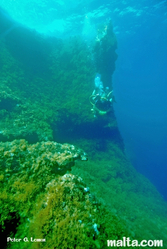 Malta takes care of its diving sites to offer the best diving experience possible
Dive sites in Malta are continuously being improved with ladders, benches and clean ups for a more enjoyable diving trip. When diving in Malta be ready to see barracuda, octopi, moray, eels, seahorses, soft coral and much more.
Best diving sites according to Malta.com staff