Shopping in Malta and Gozo: from souvenirs to glamorous brands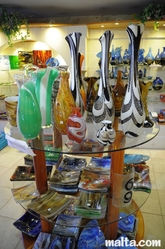 Malta has a lot to offer with regards to history, sightseeing, beaches and events, however shopping is also a favourite activity amongst those on holiday in Malta. Even if the concept of shopping has not expanded as it did in other countries, it is rapidly growing with tourists and locals alike.
Malta with all it's history, attractions and events, a day of shoppingat the original and fine shops in Malta is hard to beat. Plan a stroll down Republic Street to find the finest hand-made silverware or check out Marsaxlokk market for sweet fruit from the Mediterranean.
Shopping for local products in Malta
Shopping in Malta is fun and exciting both for the casual buyer as well as the serious shopper thanks to the wide variety of shops ranging from beauty, latest fashion and home décor to artworks, local produce and cultural artefacts.
Malta is perfectly located in the Mediterranean and has wonderful gourmet goods such as sun-dried tomatoes, olives and wines, all recommended to be tasted before you leave back home.
Don't forget to check out the locally produced silverware, handcrafts, blown glass items and lace, your choice of souvenirs to bring back home are endless. The prices in Malta and Gozo are very similar to shops in central Europe, especially when it comes to larger international franchises and food chains.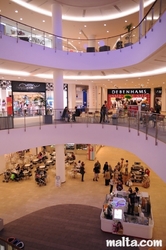 Where to go shopping in Malta
Shopping centres can be found all over Malta and Gozo, however the two main shopping districts can be found in the capital of Malta, Valletta – along Republic and Merchants Streets and in Sliema on Tower Road, Bisazza Street and The Strand. However, Hamrun, Paola, St. Julian's and Victoria in Gozo have some great outlets and shopping centres where you will surely find what you are looking for.
Shopping in Valletta
Valletta, the capital of Malta, offers a large variety of shops ranging from international brands and shops spread out mostly Republic Street and Merchants Street. However the smaller family owned shops are usually scattered in the back streets of Valletta selling handmade crafts and other local products, so exploring Valletta by foot is recommended.
At the charming Valletta Waterfront you can do some quality and Duty-Free shopping at the many shops like at the bookshop, craft shops (pottery and glass) and of course the Forni Shopping Complex, the home of several designer names.
Whether you choose to explore the main shopping streets and complexes or choose to explore the narrow grid-like streets of Valletta you will surely find a special piece of Malta to take with. The many restaurants and cafes all over Valletta allow you to simply stop for a drink or lunch if you get tired from your Malta shopping.
Shopping in Sliema
Shopping in Sliema is the second most popular place to shop in Malta after Valletta. In Bisazza Street and Tower Road there are several leading brands and shops such as Diesel, Marks & Spencer, The Body Shop, Zara and Monsoon.However shops in Sliema are not only about fashion, there are also beauty parlours, toy shops, jewel stores, souvenir shops and home décor. The Plaza Shopping Mall is located between Bisazza Street and Tower Road and has shopping spread out on 4 floors (read more here).
Sliema is one of the chicest shopping areas in Malta with several cafés along a sea-side stretch, where people come for a cup of coffee or lunch. The side streets around Sliema have several smaller interesting shops with cheaper prices.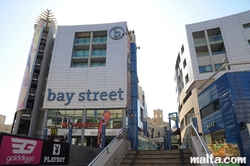 Shopping Malls in Malta and Gozo
The convenience of shopping for everything under one roof, as well as their air-conditioned environment, has made shopping malls increasingly popular in both Malta and Gozo. This has led to the recent rise of several shopping malls, in fact, The Point in Tigne opened in 2010 while The Duke in Gozo opened in 2008.
Shopping malls around Malta can be found in the larger towns such as Valletta, Sliema, St. Julian's and Victoria in Gozo. The largest and most popular ones are Bay Street (St. Julian's), The Plaza (Sliema), The Point (Tigne), Arkadia (Gozo) and The Duke (Gozo).
For a full list of shopping malls and information see to your right.
Open air markets in Malta and Gozo
Markets in Malta are a popular place for socialising, catching up and to do your weekly shopping. Visiting one of the markets in Malta is an experience and cultural tour of its own and different villages have different type of Maltese products.
Each village has a smaller market on different days on the week; to the right we have listed the larger and more well known ones.
View all the markets to your right, such as the Valletta Sunday Market.
Craft Villages in Malta and Gozo
The popularity of crafts villages in Malta has grown over the years, and many of these villages have undergone restorations to attract more visitors and artists. When visiting craft villages you can rest assured that you'll find very interesting cultural items such as knitwear, basket wear, lace which all have a long history in Malta as well as souvenirs to take back home.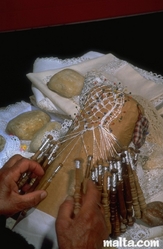 If you are interested in prehistory, you can find crafts symbolizing that era in forms of pottery and weaving. In fact, the "Sleeping Lady" found in the Hypogeum in Tarxien is a very popular craftwork as is the locally blown glass and filigree.
Visiting a craft village during your holiday in Malta is a perfect way to enjoy shopping and at the same time experiencing the Maltese culture and history. The most popular craft village in Malta is Ta' Qali Craft Vilage.
To the right you can find a list of craft villages in Malta and Gozo!
Opening hours of shops in Malta and Gozo
Shops in Malta are normally open from Monday to Saturdays 09:00-13:00 and 16:00-19:00; however larger shopping malls and shops in tourist areas are usually open throughout the day.
Supermarkets in Malta do not usually close in the afternoon; many of them have extended opening hours on certain days. The majority of the shops in Malta and Gozo accept major credit cards and take cheques.