Education in Malta, work your way up through the educational ladder
British heritage, high standards and quality teaching in Maltese schools
Due to Malta's past as a British colony, Maltese state school sector naturally draws its main inspiration from the British educational system. In Malta, all children between 4-16 years old have the right to free education in all state schools, regardless of age, sex and belief. The standard of education in Malta is high and exams are introduced to pupils at an early age. School uniforms are a norm in Malta and each school has a different uniform with unique colours and logo. Some schools still enforce a separation between boys and girl schools while some other schools are mixed.

Pre-school / kindergarten
Children in Malta attend kindergartens from 3-4 years old completely free of charge. During this period learning is informal, through a lot of games and playing as well as through interaction with other children.
Primary school
At 5 years old the child becomes a student and starts Primary School which last for 6 years, until they are 10 years old. Attendance at Primary School is compulsory for all children and there is a school roughly in each town. Until 2010 streaming was practiced during the last two years of Primary School to determine which school the students would move on to after primary school, however this is no longer practised for more inclusion. In Malta the goal is to place students with special needs in mainstream schools, however specialized schools are available too.
Secondary school
After primary school students move on to start secondary school which last for 5 years, from 11-16 years of age. These are larger schools where students from several primary schools join together.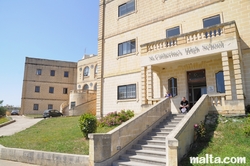 When completing secondary school, compulsory education is over, however students can opt to sit for their O-levels on their own which will help them get into high school and higher education. There are 5 compulsory O-levels to pass, English, Maltese, Maths, a science subject and a foreign Language. There many more O-levels to choose from and students can sit for as many as they like as long as they do the compulsory ones. People of all ages can sit for the O-levels. Approximately 60% of Maltese students continue education after completing compulsory studies.
High School / Post Secondary Education
As students turn 16 years old they can opt to go to Sixth Form which lasts for two years until they are 18 years of age. Which school they go to depend on how well they did in their O-level exams and there are three schools to choose from, MCAST (skills school), Junior College and Higher Secondary School which is for the students who did less well in their O-levels. At High School the students study different topics and are being prepared to sit for their A-levels which is needed to get into University.
University / Tertiary Education
After students pass their A-levels, (2 A-levels and 4 intermediate) they are free to start at the University of Malta or MCAST when they want. Usually students start when they are around 18 years old, and graduate accordingly with how long their courses are.
The University of Malta is the highest form of educational institution in Malta, and it is also the oldest University in Europe being over 400 years old. The University of Malta offers undergraduate and post-graduate level degrees and it is entirely financed by the Government. Courses of studies last between one and six years, and then the possibility of doing a PhD program.
Summary:
Primary School: 4-10 years old
Secondary School: 11-16 years old
O-levels: 16 years old (open for everyone)
Sixth Form: 16-18 years old
A-levels: 16 years old (open for everyone)
University, MCAST: 18 -25+


State, Private and International Schools
In Malta schools are divided into two categories: State Schools and Private Schools.
State Schools
State Schools provide free education to all students attending and are located in all main towns around Malta and Gozo. Besides English language lessons, all the lessons are thought in Maltese. Free transportation to and from school is provided, as well as books and other scholar material. The only thing that parents are required to buy is the school uniform.

Private Schools
Around 30% of students in Malta attend private schools which are regulated by the Ministry of Education. Private schools in Malta can be summarised in two categories: Church schools and Independent Schools. Both provide education from pre-primary to upper secondary levels.
Church Schools
Most of Church Schools belong to the Catholic Church and after an agreement with the government school fees were removed. As the church transferred much of its land to the state, salaries are covered; parents are however required to pay a yearly fixed donation to make up for shortfalls.
All lessons are thought by nuns and priest and except Maltese language lessons all the lessons are thought in English. When attending a church school, parents are required to pay for cost such as school transport, books and material and school uniform.
At Independent Schools all lessons are though in English by regular teachers. However, as the students turn 16 years old, all the lessons apart from Maltese are thought in Maltese so that students will be fluent in both languages. When attending an Independent School, parents are required to pay for costs such as school transport, books and material and school uniform.
International Schools
As Malta is very international there is a high number of foreign students from all ages attending school here. This has led to the opening of three International Schools called Verdala International School, QSI International School of Malta and International Vocational College Malta. Nevertheless, as most children in Malta speak English and lessons are thought in English in many schools over Malta, parents and students have a large option schools to choose from.
Adult Education

The Employment Training Corporation (ETC) hold courses for adults in Malta ranging from marketing to gardening, as well as basic literacy classes and specific professional trainings. The ETC is a government service and most of the courses are free of charges. Recently the ETC also set up the Night Institute for Further Education offering various vocational courses for adults.

Employment and Training Corporation (ETC)
Hal Far, BBG 3000, Malta
Tel: +356 2165 4940
http://www.etc.gov.mt

Responsible authorities:
Education Division
Great Siege Road
Floriana CMR 02
Malta
Tel: +356(21) 221401/2/3/4
http://www.education.gov.mt/