Diving in Malta and Gozo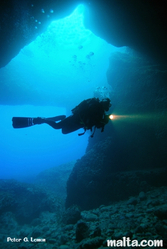 Amazing diving sites around the Maltese Islands
Malta is a very popular diving destination and offers very pleasant dives in its warm, clear, blue waters with fantastic diving sites in Malta, Gozo and Comino!
Malta was in fact voted the 3rd best dive destination worldwide in 2009 by the readers of 'Diver' magazine, UK. Malta has some of the clearest water in the whole Mediterranean Sea, and the variety of seascapes that can offer is quite remarkable. Since the 1960's when the first dive centres opened, diving in Malta has grown significantly and has now become a part of the local culture.
Plenty of diving schools in both Malta and Gozo to choose from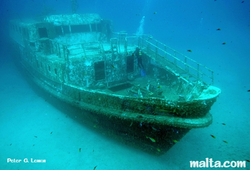 There are several diving schools (clubs) in Malta and Gozo, so you can find one that is closest to where you are staying. Consider that diving with a school guarantees professional and qualified staff ensuring your safety as well as an enjoyable diving experience.
The kind of experience the diving schools in Malta and Gozo offer are very different, going from the try dive for real beginners to the night dives for the more experienced divers.

Keep in mind that if you want to dive unaccompanied, you must obtain a Malta Government Dive Permit or present to the authorities a 2-star certificate equivalent to the CMAS (Confédération Mondiale des Activités Subaquatiques).