The Igaming industry in Malta and world wide
A key sector for Maltese economy and a leisure activity in rapid growth
Online Gambling is one of the most popular entertainment activities on the internet and as the internet connectivity has improved, so have the gambling sites.
They are easily accessible and keep on getting more wide spread and creative.
What is online gambling?
Online Gambling is a general term that refers to people using the
internet to place a bet or a gamble
and include several different games. The first online gambling website first appeared on the internet in the mid-1990s and when talking about Online Gaming we are referring to online
poker, online casinos, online sports betting, online bingo
and lotteries and mobile gaming. Hower, there are offline
casino's
around Malta for those who prefer that.
The growth of online gambling
As the popularity of online gambling sites started growing back in the 1990s, the government of Antigua and Barbuda was the first country that passed the Free Trade and Processing Zone Act in 1994 which granted licenses to companies that applied to open online casinos. Today many casino and sports booking companies operate under a licence granted following this legislation and Antigua and Barbuda is one of the most popular countries in online gambling industry's to register your betting company in.
During 1994, Microgaming was founded and became the first and largest online gambling software provider and it is still used by many casino and poker rooms today.
After 1994 online casinos, poker and betting companies developed and bloomed, creating a very developed market, and now Malta, UK, Gibraltar, Canada and the Isle of Man also offer online gambling licensing services.
However, the laws and rules regarding targeting a certain country for gambling can vary. The fact that Malta is one of the few countries granting gambling licenses to online gambling operators is a very important asset to the country.
Online gambling in Malta
Ever since the strong growth of the online gambling industry and since Malta began granting gambling licenses to online gambling operators, the country has experienced a strong economic development.
The legislation together with the Income Tax Act written specifically for international companies makes Malta a very popular destination for online gambling operators.
How online gambling contributes to Malta's welfare
According to what the Maltese Finances Minister, Tonio Fenech, presented during a seminar on gambling in 2009, the online gambling operators in Malta employ over 2500 people and has brought in over 15.6 million euros in tax revenue in 2008. The amount generated in taxes is 35% higher than the year before and shows a steady increase in the online gambling industry.
The gambling industry in Malta has also contributed to the number of foreign residents in the country, which has increased significantly over the years.

The Lotteries and Gaming Authority (LGA)
The online gambling industry is regulated by the Lotteries and Gaming Authority (LGA) in Malta, established in 2002. LGA is responsible for control all gambling activities in Malta such as casino gaming, commercial bingo games, commercial communication games, remote gaming, sports betting, National Lottery and non-profit games. It is LGA's responsibility to make sure that all games are fair and that no cheating is occurring, as well as looking out for money laundering and other illegal activities. If players feel that they have been unfairly treated by the gambling operator, a complaint can be made to LGA who will proceed with the matter from there.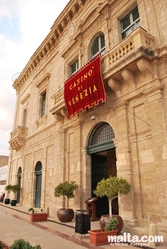 The Lotteries and Gaming Authority will issue a license to persons who have demonstrated "appropriate business ability to conduct the betting office successfully" and four types of licences are available:
Class 1 – Casino Style Games, Lotteries and Slots;
Class 2 – Sports betting;
Class 3 – P2P, Betting Exchanges, Skins, Tournaments and Bingo;
Class 4 - Software vendors taking commission on wagers.

Licences of the above classes are granted for a period of five years and may be renewed thereafter for periods of five years.
Contact LGA in Malta
Adress: Suite 1, Level 3, TG Complex, Brewery Street, Mriehel, Birkirkara, Malta
Phone: +356 2546 9000
Website: http://www.lga.org.mt
Email: info@lga.org.mt