Cruise liners arriving in Malta: discover Valletta
The Valletta Waterfront -The port of the curise liners in Malta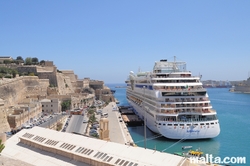 The historic port of Valletta Waterfront in Malta lies in the heart of the Mediterranean and provides an excellent location from where to start or end your cruise. The Valletta Waterfront is not only a historical 250 year-old warehouse build by Grand Master Pinto but also the gateway to the capital UNESCO World Heritage City Valletta and to the rest of the Maltese Islands offering multiple attractions.
The port of Valletta greets over half a million passengers a year and is one of the most successful Mediterranean ports. All major cruise liners visit the port of Valletta during their course and in 2008 Costa Crociere, MSC Crociere, Pullmantur Cruises and Norwegian Cruise Lines offered weekly cruises from and to Malta. However, Clipper Cruises, Club Mediterranee, Companies des Iles du Ponant, Elegant Cruises, Kristina Cruises, Noble Caledonia, Sea Cloud Cruises, Sea Dream Yacht Club, and Windstar Cruises offer less frequent cruises starting and ending in Malta. For a full list of visiting vessels refer to our monthly schedule: http://www.vallettawaterfront.com/viset/ScheduleOverview.aspx?id=96942

Valletta Waterfront leisure
The Valletta Waterfront is a perfect location offering excellent restaurants, shopping, sports, entertainment, events and much more all in one place. Enjoy your lunch in the sun with the renovated Pinto Wharf as a background and with beautiful Grand Harbour as your view.
How to get to and from Valletta Waterfront
The port of Valletta Waterfront is well connected with the capital Valletta and the rest of the Maltese Islands with several transportation services available.
Valletta Waterfront by plane
The Harbour Seaplanes provide trips between Gozo and Valletta Sea Terminal as well as scenic tours. This is a quick way of getting directly from the Valletta Waterfront to Gozo Mgarr Harbour. The Malta International Airport is only a 15 minute drive from the Valletta Sea Terminal where passengers can easily fly back home from.
Valletta Waterfront by taxi
Malta.com is happy to assist you in arranging your private taxi transfer to and from any address in Malta. We offer a reliable private pick up by car, minivan and limousines at a low price. If you are booking a taxi from the airport, our driver will wait for you in the arrival hall, with a sign with your name on it.

Valletta Waterfront by bus
Bus number 122 is a circular bus route driving passengers from the Valletta Waterfront Terminal to the bus terminal at the City Gate in Valletta. The bus operates between 05:30hrs to 22:30 hrs and leaves every 30 min from the Valletta Waterfront Terminal. Once you are at the bus terminal in Valletta, you can take any buses available to the rest of the Island including Golden Bay, Sliema, Mdina, Bugibba and Marsaxlokk.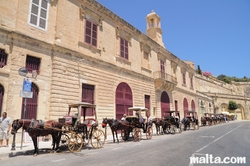 Valletta Waterfront by horse cab
The horse cabs are available adjacent to the Valletta Waterfront and offer a slow ride to the capital Valletta. Agree on the price before you start your journey as it tends to be rather expensive - around €35/45 but often negotiable.
Valletta Waterfront by Boat (Traditional Dghajsa)
Malta's beautiful Grand Harbour can be explored by the traditional dghajsa, which is a great experience for both children and adults. Explore Malta provides a 45 minute multi-lingual audio-guided tour around the Grand Harbour beginning and ending at Pinto Wharf at the Valletta Waterfront which is Malta's cruise passenger terminal. Free audio guides are available in Maltese, English, French, German, Italian and Spanish. Book on: http://www.exploremalta.com.mt/tourbookings/BuyTourTickets.aspx?tid=12

Price: Adults € 15, Children € 10, Children under 5 free
Valletta Waterfront by foot
On cooler days it is recommended for fit people to take a walk up to Valletta through Crucifix Hill. The walk takes around 25 min and sign postings are easy to follow.