Holiday in Malta during winter
Sunshine almost all year long
Although the general impression is that Malta is mainly a summer destination, tourists continue to flock south throughout the whole year. This is mainly because the weather in Malta is never too cold and therefore a break from the dark winter of Northern Europe could provide quite a nice warm holiday. Having said that, winter holidays in Malta require a bit more planning since swimming is usually not a convenient option. Even if the sun still shines during winter, strong winds from Northern Europe sometimes prevail leading to a cold atmosphere and rough seas.

Malta.com offers you a series of options that are ideal - a wide number of touristic attractions are presented around the portal, including museums, gardens, temples, famous churches and natural attractions. You'd be surprised by how many things to see there are in the 314 square kilometres that make up the Maltese Islands.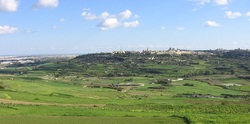 Plenty of events and things to do
Apart from visiting attractions, you can attend ongoing events in Malta and embark on several activities depending on your age and tastes. On malta.com you can find a specific kids section that provides you with stuff to do if you decide to visit Malta with your family. On sunny afternoons, you can also choose any of the countryside walks available and explore Malta's hidden charms on foot.

Other than this, you could decide to visit indoor attractions such as shopping malls, cinema theatres or some spa centres ideal for your relaxation. Dine in some amazing restaurants and find a dazzling bar to dance the night away.

All in all, Malta is definitely not a less exciting place in the off-peak season; it's a cool destination nonetheless, just a little bit less overcrowded.