Weekend break in Malta: what to do and where to go if you're in Malta for 3 days
If you prefer short holiday breaks, Malta is a good place to visit, since you can see quite a lot of different landscapes within a few kilometres. We recommend the following itinerary to make the most of your holiday in Malta!
Day 1: The new and old capital Cities: Valletta & Mdina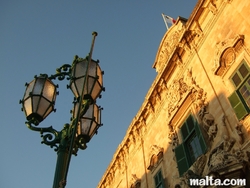 You can start your first day by visiting Valletta, Malta's capital city: Valletta might be one of the smallest capital cities in the World, covering merely 0.8km2, but it holds around 320 monuments, making it one of the densest historic and cultural areas in the World and a UNESCO World Heritage site.
Taking a bus to Valletta is usually the most convenient option – all buses going to Valletta stop just in front of the main gate. Valletta can be fully explored on foot, so make sure to get comfortable shoes and a good camera! In Valletta you can spend as much time as you want – depending on your interests. There are museums, churches, gardens and many other beautiful buildings that were built by the Knights of St. John several centuries ago. Perhaps the greatest monuments are the St. John Co-Cathedral and the Upper Barrakka Gardens, offering beautiful views of the Grand Harbour.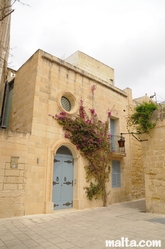 Republic Street, which is the main street of Valletta is lined with different kinds of shops ranging from the latest fashion to traditional Maltese souvenirs. If you want to have lunch in Valletta, try exploring the side streets, where the prices are less exorbitant and the restaurants are less busy.
Spend the afternoon at the Silent city

To visit Mdina, you can take bus number 51, 52 or 53 from Valletta, stop in Rabat and walk a short distance to the entrance of the main gate of the Silent city. There are virtually no cars in Mdina so you explore this cute small city in a relaxed way. This medieval town is dominated by Norman and Baroque architecture, including a beautiful Cathedral in the centre of the town. Take a walk along the streets of this beautiful town and walk all the way to the bastions, where you'll have spectacular views of the rest of Malta.
Day 2: Gozo, Sliema & St. Julian's
Although Gozo is Malta's sister island, it has a completely different landscape and way of life. So we suggest that you visit this island and enjoy the calmer atmosphere together with the beautiful scenery of countryside and Mediterranean Sea.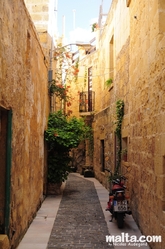 To go to Gozo, you need to get a ferry from Cirkewwa in the very north of the island (bus 41 from Valletta, 221 from Bugibba & 222 from Sliema/St. Julian's). The ferry-crossing takes around 20 minutes and there are several ferries going there every day. The return trip for passengers is €4.65, but you can also take up your car at an extra charge for more flexibility.
You can start your day by visiting the capital city, Rabat, also known as Victoria. Go up the hill to the Cittadella and you'll enjoy a 360° view around the whole of Gozo. Perhaps the most important site to visit in Gozo is the Azure window in Dwejra, which attracts thousands of tourists annually. The views here are really spectacular so make sure not to leave your camera behind!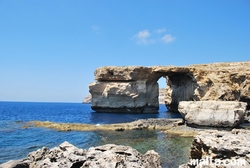 In the afternoon you can visit Calypso Cave and enjoy spectacular views of Ramla Bay - one of the most beautiful sandy beaches in the Maltese Islands. If you have time, we suggest going down to this beach and have a refreshing swim.
Once you're back in Malta, you might want to relax and take a quick nap before you head out again to explore Malta's exciting nightlife. We suggest starting the evening with dinner in one of Sliema's many restaurants, after which you can walk to St. Julian's along the beautiful seaside promenade. St. Julian's and neighbouring Paceville provide you with a lot of places where you can have a quiet cocktail or a wild dancing night!
Day 3: Blue Grotto & Hagar Qim, Three Cities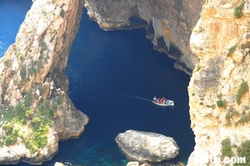 For your last day of the 3-day itinerary, we suggest a visit to the Blue Grotto and Hagar Qim & Mnajdra megalithic temples on the West side of Malta. Although the two sites are only 14 km away from Valletta, going by bus might take you a long time as there is no direct route. So in this case, taking a taxi is more ideal. Blue Grotto site has a beautiful natural cave and arch that attract many people for swimming, diving and boat cruising. Take a boat trip inside the cave to enjoy the beautiful azure colour of the waters.
On the other hand, Hagar Qim & Mnajdra temples are a UNESCO World Heritage Site that date back to pre-historic times – from around 3600-2500BC. In Hagar Qim you can understand how our ancestors lived in the early communities. One can find large stones weighing around 20 tons here, making you wonder how hard these people worked to build a temple that reflected their loyalty to the gods.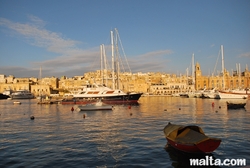 In the afternoon you might want to go to the east side of Malta to discover the three cities – Isla, Bormla and Birgu (or in their Latin names Senglea, Cospicua and Vittoriosa). Vittoriosa is probably the most popular of the three, it has many historical sites and a beautiful waterfront for you to discover! There are plenty of restaurants and relaxing wine bars in Vittoriosa where you can spend a beautiful relaxing evening.