Events in Malta
Browse the list below and find all the events happening in Malta.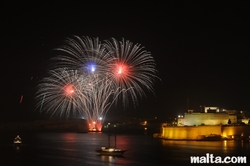 There is always something happening in Malta
Whatever you are interested in, whether it is a night out dancing to the beat of Maltese and international top Djs or exhibitions in Valletta, Malta can offer all that and much more! Visit one of the many Folkloristic Village Feastas for a truly Maltese evening. Join the celebrations which consist in statues processions, walk with the locals throught the stunning and colourful decorations and enjoy the performances of the village band playing tunes marching under a rainfall of confetti and fireworks.
Attend one of the many open air and indoor concerts & performances. Malta is often chosen as adestination for international musicians' tours, having built several indoor spaces that can host a large audience, and benefiting from the mild weather it is the perfect setting for open air concerts and music events. Malta also offers several theme festivals all year round such as the Malta Jazz Festival and the yearly Wine Festivals! Whatever you prefer, Malta has plenty of events to offer!
Best events according to Malta.com staff