Travelling to Malta by plane or by ferry
Flying to Malta is fast and easy
No matter where you are coming from,
Malta.com is here to assist
you in
booking your hotel
, vacation rental and airport transfer.

Malta is comfortably be reached within a few hours from many cities worldwide. Local airline Air Malta fly to many destinations and one can also choose from an array of other low cost airlines such as EasyJet.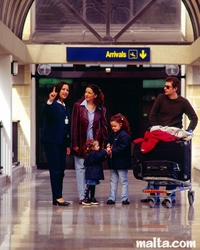 Malta International Airport
The Malta International Aiport is the only airport in the Maltese Islands and is located between Luqa and Gudja in the south. The small airport lays (3.1 mi) southwest of the Maltese
capital Valletta
, 13km (8 miles) from the tourist hub
St. Julian's
and 22 km (13.5 miles) from the summer resort of Mellieha. The Customer Services Centre (tel: 2124 9600) is located inside the check-in hall and is also open around the clock.
Flying to Malta by low-cost airlines:
• Ryanair
• Easy Jet
• Norwegian Air Shuttle
• Bmi Baby
• Vueling Airlines (from Barcelona and Madrid, and connections from other Spanish cities)
Flying to Malta by standard airlines:
• Air Malta (from several European and Middle-eastern cities)
• Airberlin (from Berlin, Nuremberg and Basel)
• Alitalia (from Rome and connections to all over the world)
• Brussels airlines (from Brussels)
• Condor (from several UK cities)
• Egypt Air (from Cairo)
• Emirates (from Cyprus, Dubai, and connections to all over the world)
• Finnair (from Helsinki)
• Germanwings (from East Midlands, Bremen, Frankfurt & Hannover)
• Iberia y Air Nostrum (from a few Spanish cities)
• Libyan Airlines (from Tripoli)
• Lufthansa (from Frankfurt, Munich, and connections from all over the world)
• Luxair (from Luxembourg)
• Meridiana SpA (from several Italian cities)
• Scandinavian Airlines (from Stockholm)
• Tunisair express (from Tunis and Carthage)
• Spanair (from Barcelona and connections Bamako, Berlin and Hamburg)
• Swiss International air lines (from Zurich)
Note: Some of these routes are seasonal, and subject to change.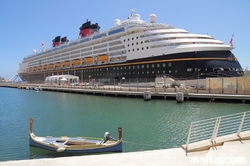 Getting to Malta by ferry
Arriving to Malta by ferry can be a
way of exploring other countries
along the journey and experiencing other cultures. Apart from
cruise liners
, Malta is served by several major ferries lines and is also a popular destination for many of the
large cruise destinations
. In 2005, 425,000 passengers from cruises arrived in Malta.

Malta (Valletta Waterfront) can be reached by the following ferry companies:
Grimaldi Ferries:
From Civitavecchia – 80km north of Rome and Catania in the east of Sicily
Name: Grimaldi Lines
Address: 13, Via M. Campodisola, Napoli 80133, Italy
Telephone: +39 081 496 444
Website: www.grimaldi-lines.com
Email: info@grimaldi.napoli.it
Virtu Ferries:
From Pozzallo in the south of Sicily and Catania in the east of Sicily
Name: Virtu Ferries
Address:Virtu Passenger Terminal, Xatt il-Ghassara tal-Gheneb,Marsa, Malta
Telephone: +356 22069022
Website: www.virtuferries.com
Email: res@virtuferries.com
Viamare:
From Genoa and Livorno in the North of Italy
Name: Viamare Limited
Address: Suite 3, 447 Kenton Road, Harrow, Middlesex, HA3 0XY, United Kingdom
Telephone: +44 20 8206 3420
Website: ww.viamare.com

Grandi Navi Veloci:
From Palermo in the north of Sicily, Livorno in the north of Italy
Name: Grandi Navi Veloci
Address: 17, Via Fieschi,Genoa, Italy
Telephone: +39 010 2094591
Website: www.gnv.it