Comino and the Blue Lagoon, a little paradise in Malta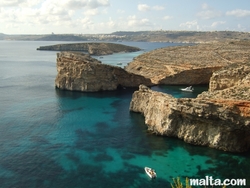 Comino and the Blue Lagoon
The tiny Island of Comino is situated right in the middle of the channel that separates mainland Malta from the island of Gozo. It is the smallest inhabited island of the Maltese Archipelago and the most pristine one, attracting all those who love swimming, snorkelling, diving, and other water sports. Between Comino and its adjacent island Cominotto lies the so-called Blue Lagoon.
This scenic bay with its crystal clear blue sea provides one of the most spectacular sights of the Maltese islands. Comino has an area of 1.5km2 and there are only about eight residents living on the Island. Traffic is non-existent and noise is the exception rather than the rule. The island does however boast a modern hotel, which caters for those who want to escape from it all.
History of Comino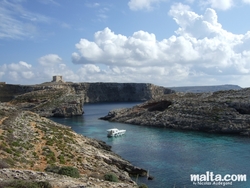 There is a small church on Comino that is dedicated to the Return of Our Lady from Egypt. This was first builtin 1618 but has been restored many times since then. A 12th century navigational map at the National Maritime Museum in Greenwich shows a church where the present one stands. Comino is known to have been inhabited by farmers during Roman times; however for long periods in its history it has been sparsely populated, or abandoned entirely. In the middle ages, Comino was popular with pirates and marauders attracted by its rugged coastline delineated by sheer limestone cliffs and dotted with deep caves. Comino's caves and coves also frequently served as trading posts for raids on boats crossing between Malta and Gozo.
Knights of Malta in Comino
The Knights of Malta
used Comino for hunting and as recreational grounds. The Knights were fiercely protective of the local game, which consisted of wild boar and hare. Upon conviction, poachers were liable to a penalty of three years as a galley slave. In 1416 the Maltese people petitioned their king, Alphonse V of Aragon, to build a tower on Comino Island to serve as an early warning system in case of invasion and to deter marauding Turks, pirates, smugglers and corsairs from using Comino as a hiding place and staging ground for devastating sorties onto the sister islands of Malta and Gozo. Two years later a special tax was levied on imported wine to raise funds for this project. However, the monies were diverted to the King's coffers, and the Island remained undefended for another two hundred years.
St. Mary's tower in Comino
In 1618, The Knights of Malta erected St. Mary's Tower (It-Torri ta' Santa Marija) on the orders of Grandmaster Wignacourt, designed by Maltese architect Vittorio Cassar. Funds for its construction were raised primarily by means of the sale of Comino brushwood. Located roughly in the centre of the southern coast of the Island, it formed part of a chain of defensive towers built by Wignacourt, Lascaris, and De Redin installed at vantage points along the coastline of the Maltese Islands, and greatly improved communications between the Islands of Malta and Gozo.
The Tower is a large, square building with four corner turrets, located about 80 metres above sea level. The Tower itself is about 12 metres tall, with walls that are approximately 6 metres thick, and is raised on a platform and plinth that are approximately 8 metres high.
The history of Comino's tower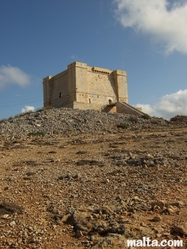 Comino served as a place of imprisonment or exile in the 16th and 17th centuries for errant knights. Knights who were convicted of minor crimes were occasionally sentenced to the lonely and dangerous task of manning St. Mary's Tower. During times of crisis its garrison numbered up to 60 soldiers.By 1791 its armament included two 12-pound iron cannons, a 10-pound bronze cannon, a 4-pound bronze cannon, and two 3-pound bronze cannons. During the French Blockade (1798-1800), St. Mary's Tower served as a concentration camp for suspected spies.
In 1829 the British Military abandoned the tower and for several decades it was deemed to be property of the local civil authorities, and may have been used as an isolation hospital, or even as a wintering pen for farm animals. The Tower saw active service once again during both World Wars. In 1982 the Tower became the property of the Armed Forces of Malta and now serves as a lookout and staging post to guard against contraband and the illegal hunting of migratory birds at sea. St. Mary's Tower underwent extensive restoration between 2002 and 2004. Today, it remains the most notable structure on Comino, and provides a destination for tourists taking walks around the Island.