Getting around in Malta: taxi, public transport, walking and cycling
Getting around in Malta is not a difficult task. There are regular public transports and car hire is always easy and accessible. The Maltese Islands are not large so nothing is ever far away, especially by car. However, inexperienced drivers are should be careful when driving Malta as rules and regulations are not as respected in Malta as in other countries.
Getting around in Malta by taxi
Malta.com is happy to assist you in arranging your private taxi transfer to and from any address in Malta. We offer a reliable private pick up by car, minivan and limousines at a low price. If you are booking a taxi from the airport, our driver will wait for you in the arrival hall, with a sign with your name on it. Book your private reliable taxi with Malta.com!

When considering the lack of parking spaces available in many areas, the price of car hire and the full busses during summer, taxis are a good alternative. The taxis in Malta hardly ever work on meter so it is important that you agree on the price before you enter the taxi hailed from the street.
Getting around Malta using public transport
Malta has for years been famous for its colourful busses, many dating back to the 1950's and are sold as miniature statues in many souvenir shops. Malta's Public Transport Association (ATP) has been running the buses until 3rd July 2011 when the bus system was take over by Arriva Malta. View the new improved bus time table and a map of all routes on Arriva's webiste.

Public transport is not always convenient and smooth however the new improved regular services takes you to all parts of Malta at a low cost. The direct route links the tourist resorts and larger villages with attractions and areas of tourist interest.
Bus Prices in Malta
A 2 hour ticket costs €1.30, 1 day ticket €1.50, 7 day ticket €6.50, 30 day ticket €26 and the 90 day ticket €72. There are higher tariffs for tourists. Tickets for the buses in Malta can be purchased from one of the 29 permanent ticket vending machines across Malta and Gozo as well as from Arriva's Ticket Offices located at Valletta bus station, Victoria bus station (Gozo) and Malta International Airport. You can purchase the 2 Hour, 1 Day and 7 Day tickets on the bus using cash.
Buses in Valletta, Malta
There is no public transport within the walls of Valletta due to the steep and narrow roads. However there are the new eco-friendly chauffeur-driven CT Cabs fleet of battery -powered can than can take you around in Valletta. Fares starts from only €2 and service runs from 07:00-23:00, 7 days a week. Book by calling +356 2133 3321 or +356 7933 3321.
Malta by water taxi
Water taxis in Malta are often a faster way of getting around than by bus, especially when travelling from Sliema to Valletta. Water taxis are also a fun way of getting around especially when travelling with children.

The water taxi running between Sliema and Valletta is very popular with the locals and the foreigners as it is quick and cheap. Going by bus or car requires driving along the whole coast; however the boat gets you to the other side in less than 10 min. It runs every 15 min between 08:00-17:45 in winter and 07:30-18:15 in summer. The price is only €0.93c and no booking is required.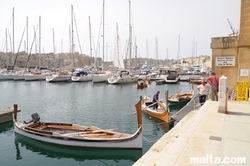 The water taxis in the Grand harbour offer a service between the capital Valletta and the historical and pittoresk towns of Senglea and Vittoriaosa (Birgu) using the traditional and colourful Maltese boats called "dghajsa". The crossing only takes around 10 min to anywhere in the Three Cities. During winter bookings are required as the boats do not cross regularly. The pickup points are:

Valletta - Waterfront
Valetta - The Fisheries
Senglea - Alice spring kiosk
Vittoriosa (Birgu) - Marina Entrance
Price for two people is €10 and children travel for half price. Book or call for information on +356 9924 7447.
Malta by walk
Getting around by foot is a healthy option and a great way of exploring Malta's scenery and culture. However, in summer when the temperature rises to 30 degrees and little shade is provided this can be a strenuous task for many.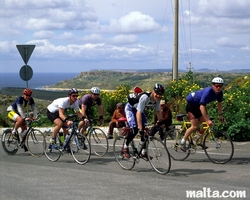 Walking in Malta can be a very satisfying experience since the Maltese countryside offers many stunning countryside walks that are highly reccomended. Public toilets are few and pavements are rarely accessible to persons with disability due to their bad condition and narrow width.
Malta by bicycle or scooter
Renting a scooter or bicycle in Malta is possible but not highly recommended unless you are a daredevil. The roads have plenty of potholes, many people do not follow traffic rules and the traffic is very heavy. Public transport or renting a car is a much safer option when getting around in Malta. However, if you are visiting Gozo a scooter or bicycle can be a nice way to enjoy and get around the island.