Local information, all you need to know about the daily life in Malta

Classified ads
Malta is a small island but we want to make an effort to bring people's necessities together. So, from this classified ads section you will be able to browse between all the ads in our categories to find what you are looking for and post your personal classified, that will be reviewed and published in the shortest delay possible.
Lottery results
Trying out your luck in Malta? Read through the general rules and learn more about
Maltese Lotteries,
play and check the
winning numbers
!
Radio and TV stations
If you want to learn more about Maltese pop culture, turn on the radio in your car and listen to the many programs that are broadcasted in both Maltese and English. Otherwise you can flick through the channels and maybe catch your favourite movie!
Real estate
Malta is so beautiful that you will be tempted to prolonge your stay. So, with all the possibilities this Island offers, why not
rent or buy a flat in Malta a
nd live here! The
real estate service
will make sure you are informed of all the best properties deals available on the market!
Public service

If you have to contact the Maltese government, we have phone numbers, emails and addresses of all Maltese institutions and the public services present on the island territory.
If you will ever find yourself in need of assistance from your home country, we can help you find your Embassy in Malta, or if you need further assistance, you might find the address for the closest local council and police stations.
Emergency contact
Touching wood, you should always have a copy of the Emergency Contacts with you during your holiday in Malta. Remember to print the page or to save all information on your mobile!
Health care
As you seek for medical treatment in Malta you can choose between the different health care facilities around Malta, Public health care that is financed by the Maltese State and covers practically any treatment, or the Private Clinics that works through insurance coverage.
For foreigns, medical treatment from government-funded hospitals and clinics is free.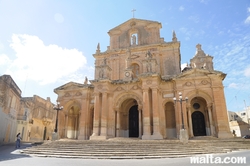 Parish church
Every village and town in Malta has at least one church in its centre, that can be seen from a distance across the island.
The average church density in Malta is of 1 church per square kilometre, which means that wherever you are, you will always find one within walking distance.
In case you will need to get in touch with the local parishes, (63 in Malta and 15 in Gozo) we are providing you with contact information.