Public services in Malta, all the services available to the general public
There are a number of services available to the general public in Malta, ranging from administrative, diplomatic and support services to policing and postal services. Most of these services are offered for free, while others are offered at minimal charges.
Government institutions
The Government in Malta is made up of ministries and departments, and a number of other governing bodies and autonomous authorities. Each Ministry is led by an administrative person, known as the Permanent Secretary, who directs the ministry and its departments and divisions. The Ministries have an important role in enacting the policies agreed upon in Parliament, by creating systems and enforcing laws.
Social services
The Maltese government offers a number of social services for those in need; for those who need support to deal with alcohol, drugs and gambling addictions, for disabled persons and their families, for the poor, and for those who are suffering any type of physical or emotional abuse.
Embassies and Consulates
There are a number of foreign embassies and consuls in Malta, who are ready to help and protect their compatriots in case they find themselves in any difficulties or unpleasant situations. Embassies help greatly in trade and travelling issues, so they are an ideal partner if you plan to move to another country.
Local Councils
Local councils are the local administrative body of towns and villages in Malta.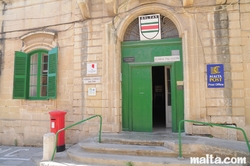 There are 68 local councils in all, 54 in Malta and 14 in Gozo. The main responsibilities revolve around the upkeep of towns, maintaining a clean environment, upgrading roads, and dealing with waste. Many councils organize local events for the residents, ranging from courses to festivals and concerts.
Post offices
MaltaPost is the operator of the postal service in Malta; offering daily distribution of letters and packages to households and businesses in every village in Malta and Gozo. There is a post office (or a sub-post office) in every locality, and you can find their details on the menu on the right.
Policing and police stations
The Malta Police Force is one of the oldest in the World, aiming to keep up the security of the nation and ensuring safety for the Maltese community. There is a police station in every locality, while the Mobile Squad and the Traffic Unit roam around in their cars and motorcycle to ensure a good presence of policemen on the roads.