Marfa Ridge Country Walk Malta
Step in your walking shoes and discover the Marfa Ridge
The Marfa Ridge country walk is a beautiful walk that takes you to different kind of habitats and allows you to discover farmland, wooded areas, beautiful bays, cliffs and garigue. The walk starts in the northern part of Malta at the Islands largest sandy beach, Mellieha Bay or Ghadira Bay.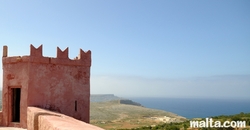 Start your country walk at the Mellieha bus terminal and walk to the gate which is the entrance to the Ghadira Natural Reserve. Keep on walking towards the Torri L-Ahmar, The Red Tower, and you will reach the top of Marfa Ridge. As you walk towards the far end of Marfa Ridge you will come across a small chapel called solitary Immaculate Conception chapel built in the 19th century and completely rebuilt in 1960s.
After exploring the chapel you can admire the breath-taking sea views from the cliff's edge before you continue walking through farmed land, wooded areas and high stunning cliffs. As you continue the Marfa Ridge country walk you will arrive to the It-Torri L-Abjad, the White Tower, and from there on the walk turns uphill and you will arrive at the scenic and beautiful beach of Paradise Bay. As you leave Paradise Bay tighten your shoelaces since the walk continues on a dirt road that takes you to areas with fantastic sea views and small paths winding down to terraced fields hanging of the cliff side making you feel like you are in the Amalfi Coast. As you keep walking explore the fauna around you and keep walking and you will walk arrive back to the Red Tower and the Ghadira Nature Reserve.

The Marfa Ridge country walk will take more or less 4.5 hours to complete and is 11 km long.