The Plaza Shopping Centre
The Plaza Shopping Complex : the leading shopping complex in Sliema
The Plaza Shopping Centre is the main shopping complex in Sliema, Malta. The Plaza comprises a mix of over 30 retail outlets, catering and offices spread over nine floors built around a central atrium. This mixture makes The Plaza a vibrant and busy complex and you will surely find what you are looking for.
At the Plaza Shopping Centre : shopping, beauty and dining
At the Plaza in Malta you can shop listening to maltese radio stations and choose within a large variety of the leading and international brands.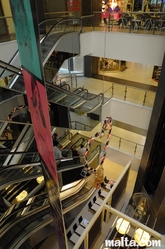 You will find the latest collection of groups like such as La Senza, United Colors of Benetton, Promod, Harry & Sons as well a book shop and a hair salon.
A small number of cafes are located within the Plaza and offer a break between shopping, however, if you wish to have a coffee by the sea it is only a minute walk away.
Contact the Plaza Shopping Centre, Sliema, Malta
Address: The Plaza Commercial Centre, Bisazza Street, Sliema SLM 1640, Malta
Email: info@plazamalta.com
Web: www.plaza-shopping.com
Parking: The Plaza does not have any parking spaces reserved for shoppers; there is however a small parking lot, just down the street. Buses to Sliema run frequently.
Opening hours: 10:00-19:00, however some shops close for lunch between 13:00-16:00