Walk along the West coast of Gozo
Explore the west coast of Gozo on foot
Gozo's west coast can be greatly appreciated on foot. You can stroll along the cliff between Ras il-Wardija on the south-west corner of Gozo, and Qawra, which is better known as the Inland Sea of Dwejra.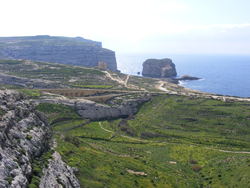 You can start the walk from Rabat, and take the road to the Ghadira ta' Sarraflu via Kercem. On the way, you can enjoy views of Xlendi village and its coastal tower. Ta' Sarraflu is one of the few wetland areas in the Maltese Islands.
This pond provides an excellent habitat for insects, birds, amphibians and other fauna as well as plants that are adapted to live in aquatic environments, the Reed Mace amongst others. Once you pass the pond, you can take the jagged path to the left in the direction of Ras il-Wardija. You can observe the mysterious remains from the Punic period, as well as have a distant view of the Fungus Rock, the Dwejra Tower, the Azure Window and the massive limestone cliffs. Keep on walking towards the North, and you will arrive to the amazing Dwejra Bay. If you keep to the cliff path, you will see a small cascade and further on is the Dwejra coastal tower.
This walk is around 6km long, and takes around 2 hours to complete.