Ta' Gurdan Country Walk Gozo
Explore the hidden gems of Gozo on foot
The Ta' Gurdan country walk is a perfect way to discover the countryside in Gozo, its rich history and nature. The walk starts and finishes in the village square of the small village of Gharb and as you take the left hand-side road on the side of the church you will arrive to the countryside where the walk will continue.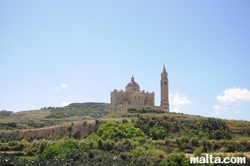 As you continue walking you will arrive to the St. Dimitri Chapel that was originally built in the early 15th century and from here you have great views of the Ta' Ġurdan Lighthouse and Ta Pinu Sanctuary. The walk past the Wied il-Mielah (Salty Valley), which is a magnificent window reached by an old road next to St. Dimitri Chapel. As you walk up to the top of Ta Gurdan hill you will be able to enjoy the rugged coastline of Malta and the panoramic sea views. The fantastic valley of Wied il-Ghasri is the next stop on the walk and is set between steep cliffs and has beautiful clear blue waters. If you have time, head to the Wied il-Ghasri Bay for a fantastic swim!
The Ta' Guardan country walk will take more or less 4.5-5 hours to complete and is 12 km long. Include more time if you wish to swim in Wied il-Ghasri Bay and visit the Ta Pinu Sanctuary.