Dahlet Qorrot Country Walk Gozo
Explore Gozo on foot, and see the details that are not possible to see otherwise
The Dahlet Qorrot countryside walk in Gozo is one of the shorter walks, however you will still discover the history of Gozo, old traditions and of course the lovely nature. The Dahlet Qorrot country walk starts and ends by the village square in Nadur.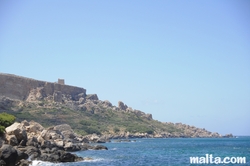 As you pass Nadur you will arrive to the cute fishing harbour Dahlet Qorrot Bay with small boats and boat houses inside caves mostly known by scuba divers. Here you can safely swim in the clear blue waters and relax on the rocks before continuing along fields where both traditional and modern farming methods are used. Here you should stick to the path as the fields are private. Further on you will arrive to the village of Qala from where you will have fantastic views over Malta and Comino, so don't forget to bring your camera along. Walking or cycling close to the cliff edges should be avoided for your own safety. As you start walking back, you will pass through Qala where you can see an 18th century windmill and the Qala Church known as Santa Marija tal-blat (St. Mary of the rocks) surrounded by farmland. As you arrive back in Nadur you can explore the village and St. Peter and Paul Basilica.

The Dahlet Qorrot countryside walk in Gozo will take around 3 hours to complete and is 9 km long. Include more time if you wish to swim at Dahlet Qorrot Bay.