Chef Interview - The Kitchen Restaurant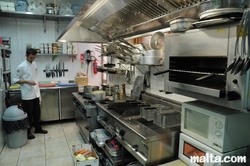 The Kitchen Restaurant's and chef Mark Gauci
The Kitchen Restaurant is a family run business owned by the international award-winning Chef Mark Gauci and his partner Nadja, located on the most beautiful promenade in Malta, the Sliema seafront.
The Kitchen Restaurant has an interesting menu with a balance of familiar food mixes with more experimental ingredients such as duck breast with pear glazing.
Read the full description of The Kitchen Restaurant!
Full interview with Mark Gauci from The Kitchen Restaurant
How and why did you choose to become a chef?

Since a young age I was interested in cooking. When I was sixteen I started off in the catering industry as a waiter, and was lucky enough to one day get the opportunity to try my hand in the kitchen. It was immediately obvious that that was my place!
What do the Maltese people look for in food? Is that different from cooking for tourists?

Unfortunately, a typical Maltese person looks at quantity, rather than quality. In my work, I emphasise on quality, however. First of all, quality comes at a price. Therefore if I had to serve quality food in quantity, it wouldn't make it feasible price-wise. Secondly, I believe that when food is of a certain level of quality, and therefore strong-tasting and rich, it wouldn't be enjoyable if it comes in certain amounts. In general, foreigners (excluding Southern-Italians, Southern- Spanish and Greeks, who are more like the Maltese), tend to appreciate higher quality food in smaller portions better.
Where do you buy your products and do you use any organic products?
I buy products from an array of outlets. Usually, I am around fishing for particular products in particular stores. I do use organic products sometimes.

What is a good food experience to you?

First of all, if it is a meal, it has to be flowing, like a good story. Then I am intrigued by unusual combinations of ingredients that turn out to be a delightful surprise.
What would you cook when inviting friends over to your house?
To be honest, I do not enjoy cooking at home, so I avoid inviting people for dinner. (Actually, a lot of chefs don't like cooking at home!)
What did you learn from your mother/grandmother that you still use in your kitchen today?
My way of cooking is definitely not the conventional way, so I can't adopt any methods or recipes from home experiences.
Read our other interesting chef interviews and have a look at our list of restaurants in Malta and Gozo!