Maltese specialities, typical dishes and recipes passed down from generation to generation
The Maltese Archipelago has a traditionally peasant cuisine, with distinct Mediterranean flavours. The secret is fresh and seasonal ingredients, locally grown and combine with passion and mastery.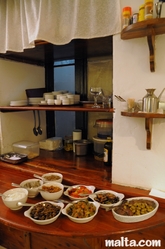 The Maltese cuisine is lagely influenced
The recipes of Maltese cuisine are a tangible and tasteful proof of the various influences the island had from other countries and cultures that came across its history. The Italian imprint is probably the strongest, particularly Sicily and the South. Pasta dishes are really popular, but the Maltese them with a softer texture. Maltese gastronomic legacy of its past includes also Spanish, Arabic and British influences.
Only the best of the Mediterranean
Mediterranean ingredients such as fresh and sundried tomatoes, parsley and garlic, wine, olive oil and fresh cheese are the base of any traditional Maltese recipe. The humble extraction of the traditional cuisine is recognisable by the cheap cuts of meat and dishes that can be served as two meals, which does not make it any less tasty, quite the opposite.
Maltese finger food
Dips like bigilla and olives, eaten with crusty bread, often accompanies a fresh drink during the warm afternoons. Crusty bread is also used as appetizer in its "hobz biz-zejt" form, which translates in English as bread with oil. A thick slice of Ftira bread with tomato paste called kunserva and topped with capers, olives, garlic, black pepper, and sometimes tuna or anchovies. The most popular snak on the island, Pastizzi, with at least one pastizzeria for every village, so good that they have been exported to Australia!
Fish and meat

Being an island in the middle of the Mediterranean, Malta's gastronomic traditions are connected with fish: try the rizzi (sea urchins) sauce for your spaghetti or the grilled Lampuki, a fish that is caught by laying palm fronds on the water to provide shade the fish craves. From the traditional Bragioli, rolled stuffed piece of beef cooked slowly in tomato sauce and herbs, or Fenkata, rabbit stew with peas and cooked with wine.
Sweet tooths
Maltese desserts will remind you of Arabian nights with their dates and almonds. Traditionally you finish your meal with fresh fruit and some soft fresh Maltese cheese called ġbejniet. An aged version of this hand-made cheese is eaten as a snack or appetizer in a Maltese platter - both have a sweet slightly nutty taste.
Here you can find a vast selection of the most famous Maltese recipes, to have an idea before ordering in a restaurant or to try them during nostalgic moments when you return home.