Yellow and orange buses – not anymore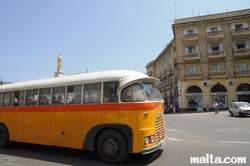 The traditional souvenirs replaced by modernity
The old Maltese bus painted in bright yellow and a stripe of orange was a typical attraction in Malta; often small models of buses are taken as a gift by those people holidaying in the Maltese Islands. With vehicles dating back numerous decades, this popular public means of transport provided a convenient mode of commuting, both for locals and tourists alike. Prices were cheap, but many service users maintained that the service was cheap as well. Lack of punctuality, no-shows, inconvenient timing, impolite drivers and dangerous driving were often claimed as the main complaints.
The arrival of Arriva
It was clear that Malta of the 21st century needed a change in the bus system; a change that finally came about in summer of 2011. The public transport system was completely revamped; new buses, new routes, and a good customer care system were put in place. Transport Malta researched the behaviour of Maltese commuters to create new routes, while the foreign company Arriva was selected as the operator of the new bus system. Almost 200 new vehicles were imported in the hope that the Maltese public will receive a better service. Needless to say, the first weeks of the new service were a bit chaotic, customers were getting used to the new system, routes and prices, while the drivers were getting used to their new job. The service seems to be continually improving, one week after another.
All the new bus routes on malta.com
All around our website you can see what bus numbers you need to use to arrive to any city, village or tourist attraction. You can find more information about the new routes and timetables at www.arriva.com.mt. Have a good trip!