Special Events Coverage around Malta and Gozo
We have it all covered for you!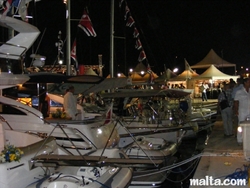 Here you can read full reports about all the fun and interesting special events, news and happenings in Malta with pictures and videos, all covered by us to keep you up to date. You can also register to leave your comments and tell us what you think.
Simply choose the year above and browse trough the titles on the right, to see what you can read about. Did you know there were over 300 wines served at the Marsovin Wine Festival? Did you get hear that on July 25th 2011 the divorce law passed in Malta? If not, don't worry we have that and much more covered!
The Bugibba Waterpark inaugurated
A great park in the North of Malta for all children to enjoy
The Bugibba waterpark is a new family-friendly attraction has been recently inaugurated in the North of Malta next to Bugibba beach. Opened on the 23rd of June 2012 by Malta's Prime Minister Dr. Lawrence Gonzi, the park is built on an 800 square metres of land and has 17 water features for children to enjoy. Divided in a number of zones for children of different ages, the park can accommodate 50 children at once and includes water loops, water umbrellas, parasols, a bucket tower, a palm spring and two water cannons. Built in a way to resemble a boat, the park also incorporates a building that includes locker rooms and sanitary facilities.
The Bugibba Waterpark will be open only during summer, exactly between June and September from 10:00 to 19:00. All the water used in this park is recycled with a UV and chlorine treatment and then stored in a reservoir to conserve the usage of water as much as possible. It is an innovative way for children to play and have fun, so get your children along and make sure to visit this park this summer, as they will definitely have the time of their life, splashing in the water and making new friends at the same time!
A record crowd for the Isle of MTV Malta special 2012
will.i.am, Nelly Furtado, Flo Rida and Eva Simons woeing the crowd
The sixth edition of the Isle of MTV Malta Special 2012 gathered a record crowd at the Granaries in Floriana last night, estimated to be around 50,000 people. The crowd challenged the current heat wave and the traffic jams to attend the free concert organized by the Malta Tourism Authority. The headliners for this concert included Nelly Furtado, Will.i.am and Flo Rida (both had already performed at previous editions in Malta), and Eva Simons, a Dutch upcoming pop electronica singer who was the supporting act for the night.
The crowd started gathering in the early hours of the evening, waiting for the biggest event on Malta's music calendar to start. Eva Simons started the party with her unique energetic music, including the great track 'I don't like you'. Later on, Canadian singer Nelly Furtado opened her set with a great performance of Maneater, leaving the crowd screaming and jumping, particularly during the hit 'Jump'.
On the other hand, Flo Rida moved the crowd with the hits 'In the Ayer and Low', 'Wild Ones' and 'Good Feeling' and more. He was clearly thrilled to be in Malta as he took off into the crowd to hand out roses to the ladies and then to high five the crowd all across the square. The final act by will.i.am left the audience in awe with his dancers, circus performers, fireworks and an incredible DJ set that brought the best Isle of MTV Malta to a great end. We're already waiting for the next edition, hurry up Summer 2013!
Summer 2012 is here
Get prepared for a summer fully packed with exciting events
Today, the 21st of June, marks the start of the summer season in Malta. With temperatures already well over the 30 degrees Celcius, many prefer to head to the beach to cool down in the beautiful Mediterranean waters. Sunbathing, BBQs and chilling are favourite activities of many locals and tourists, but 2012 brings more than beaches along.
June has been dominated with football events, but the rest of Summer has plenty of events to offer; there's no way you can be bored in Malta. Starting with the Isle of MTV concert that will be held on the 26th of June as part of the Malta Music Week, that will be followed by the Malta Arts Festival from the 1st to 18th of July all over the island. Music lovers will be spoilt for choice with the annual Jazz Festival, concerts by international artists including that of Joseph Calleja, Ronan Keating, Laura Pausini, Renzo Arbore and Antonello Venditti.
Last not but least, the Maltese summers are known for the religious festas that dominate the cities' landscape with their colourful brass-band marches and fireworks! There are a couple of festas every weekend in each city and village around Malta. To keep yourself updated with what will be happening in Malta during Summer 2012, have a look at the comprehensive selection of events in Malta that malta.com offers.
Euro 2012: Experience football in Malta too
Follow the best of European football in your favourite bar
The Euro 2012 started on the 8th of June, and the fever surrounding it can be felt in Malta too. Although the Maltese National football didn't make it to the finals of this prestigious European tournament, the month of June still sees hundreds of football fans diverting from their usual schedule in order to follow the latest developments. In fact, instead of going to some lovely beach to get a tan, many choose to go to their local bar and watch their favourite team play.
Historically, most of the Maltese tended to side with either England or Italy, something that stems from the close political and cultural relationship that Malta has between the two countries; so when either of the two teams play, both clans of supporters stops to watch and hoping that they win and the others lose. But fans of other countries can be seen all over, between tourists and expats, who patriotically carry around flags, face paints and a lot of cheering to support the dedicated professional players that compete in this acclaimed championship.
Bars and restaurants set up big screens for fans to watch the games while sipping a glass of their favourite beer with their friends. As the tournament goes on, the competition gets tougher and the excitement grows bigger, as the best teams make it to the final rounds until the winner is found in the final game on July 1st. We at malta.com would like to wish all the best to all the participating teams and their fans!
Child prodigy pianist in Malta concert
Audience captured as seven year old plays intricate compositions
Young Dmitry Ishkhanov may be only seven years old, but he already established a name for himself as a prodigy pianist. On Sunday the 3rd of June, 2012, he performed in Malta during the last concert of the Malta Cultural Institute that was held at Le Meridien St. Julian's Hotel & Spa.
Ishkhanov has already played in a series of acclaimed performances all over the world, and in fact, he flew to Malta straight after performing in Armenia. Young Dmitry managed to capture the audience as he played intricate pieces by various composers that included Kuhlau, Kabalevsky, Shostakovich and Gillock.
The final concert of the Malta Cultural Institute for this year also featured a performance by pianist Chantal Mangion who performed works by Chopin, Debussy and Scott. On the other hand, soprano Louiselle Pace Gouder and pianist Maria Ellul sang a repertoire that included Italian art songs and German Lieder, followed by operatic pieces by Mozart, Cilea and Puccini.
The evening came to an end as flamenco dancer Bettina von Brockdorff danced Con la bata y el mantòn, a twelve-count Flamenco rhythm and song from Cadiz in the south of, Spain.
This was the last concert of the series organized by the Malta Cultural Institute before summer. Concerts will resume once again in October.
Kurt Calleja returns back to Malta from Azerbaijan
Malta's most awaited event happened last weekend
Kurt Calleja has just returned back from Azerbaijan where he was representing Malta in the Eurovision Song Contest this year. A sizeable crowd welcomed him at the airport, celebrating Malta's best result since 2005.
Most of the Maltese were stuck to their TV screens both on Thursday and Saturday, with their fingers crossed hoping for the best. And the 21-year old, didn't disappoint as he gave an energetic performance on the semi-final of Thursday that bought him the ticket to the final concert on Saturday. Kurt Calleja and his band gave life to the song "This is the Night" by excellent choreography and special effects, bringing home the best result for the last seven years.
The obsession of many Maltese regarding the Eurovision is an interesting one. It's not just a musical concert, but rather an awaited an event that keeps people talking throughout the whole year. The concert is taken very seriously, and both before and after the concert there are continuous radio and TV programmes that analyse and evaluate the whole thing.
Malta has been participating in this European song festival since 1971 and unfortunately has never secured the first place, giving rise to a lot of controversy about this topic. Some claim that Malta has slim chances to win as other countries vote to their geographical neighbours, bringing up the topic that Malta should not participate anymore as it is just a waste of money. But others take it lighter and enjoy the party, while cheering and dancing to their favourite song.
We would like to congratulate Kurt Calleja, who at this tender age, has already gained an international exposure that will pave his future musical career!
Malta Fashion Week 2012
All the best of fashion design and modelling in one week of events
The Mercedes-Benz Fashion Week Malta opened on the evening of Thursday the 3rd with a fashion photography exhibition at St. George's Square in Valletta. Around 40 large prints were illuminated and laid out around the square as the public could walk around them throughout both the day and night. Several local and international artists had their works displayed for a whole week in this exhibition that would not have been possible without the support of Logografix.
On Sunday 6th May, there was the Pronovias Bridal & Cocktail show that was held in the incredible Casino Maltese in Valletta, while on Monday then, it was time for Charles & Ron, who presented their Fall/Winter Collection for 2012/2013. The collection, called So Hot, So Cold brought about contrasting elements that together created a perfect balance. This launch was held at the Mediterranean Conference Centre in collaboration with Viventy Jewels by 202 Jewellery.
On Tuesday 8th May, there was an interesting exhibition held at the Mercedes-Benz Showroom in Lija, which displayed colourful theatrical and period costumes, held in collaboration with Teatru Manoel. Wednesday saw the Maiden show from Fleur Kelinza fashion, held at The Corinthia Palace Hotel & Spa in Attard.
Thursday it was the opportunity for new designers to launch their collections while on Friday Russian designers teamed up with Maltese designers to launch their collection. Of note was the new swimwear collection by the Maltese model Tiffany Pisani, who was crowned Britain's Next Top Model in 2010.
The Malta Fashion Week reached its culmination with a grand finale on Saturday night as the Trussardi Jeans Malta Fashion Awards were held at the MFCC in Ta Qali. Shana Caruana and Robert Galea won the best Female and Male Models respectively. Valentina Rossi won the Female Photo Model award, Gino Bezzina won the Male Photo Model, while Tonio Lombardi managed to get the Best Fashion Photographer. Muriel Thake won the award for Best New Designer while Justin Brincat won the top Make-up Artist award. Finally, two hairdressers, Steve Vella and Annalise Azzopardi were chosen to represent Malta at the Wella TrendVision awards in Spain this autumn.
Maltese girl won Sanremo Junior festival
Gaia Cauchi wins international singing competition
Gaia Cauchi, a nine-year old girl from Mgarr, has won first place at the Sanremo Junior International that was held this weekend in Italy. This international song and music competition was open for soloists singers and musicians from different genres - pop music, rock, jazz and folk – aged between 6 and 15 years.
Gaia interpreted the song 'One Night Only' from the film Dream Girls which is originally sung by Jennifer Hudson, and her magical strong voice captured the heart of the audience. She had won the ticket to be able to participate in this prestigious event as she was chosen amongst other young artists on a television programme, "SHOWBIZ", produced by ONE productions.
Gaia's voice teacher Gillian Attard, Maestro Paul Abela and Norman Hamiltion accompanied her during this adventure that will definitely have a great impact on her musical career. This wasn't Gaia's first experience on foreign TV. Last year she appeared on Rai Uno's live show, 'Ti Lascio Una Canzone', presented by Antonella Clerici as she captured the audience, by an amazing interpretation of Tina Turner's "Proud Mary"
We at malta.com would like to congratulate Gaia for her success and wish her all the best in her singing endeavours to come!
Promoting racial equality in Malta
Fighting discrimination with a new EU funded project
"I'm not Racist, But..." is the name of a new project that was just launched in Malta in order to understand the situation of ethnic minorities in the country. The project takes its name from a commonly heard phrase by those who claim that they are not racists, but then their words and actions prove otherwise.
This project is funded by EU Progress funds and will be implemented by the National Commission for the Promotion of Equality together with other stakeholders working with refugees and migrants in Malta.
In a conference that launched this project, NCPE explained that although there is a lot of evidence suggesting that ethnic minorities face great difficulties and struggles with regards to different issues, reporting of discrimination is very low. Therefore, "I'm Not Racist, But..." aims to empower minorities to get their voice heard, promote rights advocacy, report discrimination, raise awareness and promote cultural diversity.
The main activities of I'm not racist, but... will include: training in empowerment and reporting discrimination, production and distribution of videos about racism, the holding of an anti-racism day, and carrying out research about the housing experiences of ethnic minorities.
Gharb produce the biggest gbejna ever
Massive cheese made during Seher il-Punent festival in Gharb
The small town of Gharb in Gozo managed to break their own record by making the largest gbejna ever – weighing a massive 104 kilos, 27 kilos heavier than the record established last year. The gbejna was produced during the sixth edition of Seħer il-Punent festival between the 27th and the the 29th of April, 2012.
It was a hard day's work to create this giant gbejna. Adrian Formosa and his team woke up early in the morning to mix more than 400 litres of milk mixed with rennet (curding agent) at a temperature between 32.5 and 33° Celcius. This process continued until a hard curd formed. It was then broken into small pieces and put in stainless steel moulds (qwieleb). Salt was added and the cheese is now put in a well-ventilated room and left to ferment, being washed down often. It will be ready for consumption at the next Seħer il-Punent festival organised next year.
This gbejna was one of the many attractions this three-day festival organized by the local council brought about. Other activities included dancing, historic re-enactments, a tug-of-war, fireworks as well as a great concert with well known local personalities including the New Cuori group, Debbie Scerri and tenor Aldo Busuttil.